These eBooks are free today.
Sorry I missed three days!!!
On Saturday we had a huge day cleaning up my aunt's house after she moved in here. We're doing up a cottage for her on our farm as she flatly refuses to go into aged care and, at almost 80 years of age, she cannot keep going up and down the huge flight of stairs at her old highset home.
Then, on Sunday, we had a dressage day - we took our nine year old Quarter Horse stallion, Days Of Gold over (photos below). My daughter Kate rides him - he's almost 16 hands but she's almost 6 feet tall so she makes him look a lot shorter. They did two preliminary tests against very large fields of Warmbloods, Thoroughbreds & other breeds (and only one other Quarter Horse that we know of - a very nice gelding owned by a friend) - I think there were about 30 in one test and 18 in the other, and under two different official judges, they scored 70% and just over 70%, giving them a second and a sixth, which was fantastic. Mind you, our boy has won five Australian National Quarter Horse Champions & five National Reserve Champions at Q7 & Q9 (with me riding) and Q10 (with Kate riding once she was old enough), in dressage, hacking and halter, and has over 20 other national champions, mostly with Kate, but this is his first move into open dressage, so we were delighted with him doing so well.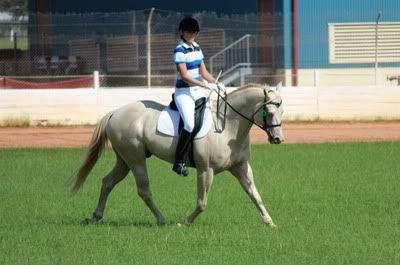 Days Of Gold & Kate, warming up at dressage, 11 March, 2012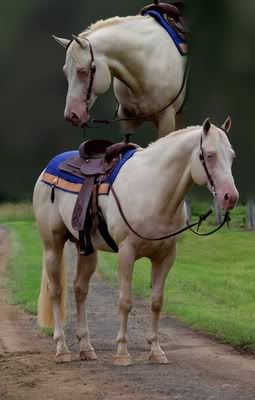 Days Of Gold, 2012 - 9yo Quarter Horse stallion.
Yesterday was just another mad rush all day. The gooseneck was booked in for its annual mechanical inspection at 8am so its registration can be renewed (it's only three years old so is in great condition, but has to be inspected annually anyway), then off to buy a whole new wardrobe of nice clothes & shoes for my aunt.
But I'm back on board today... and off I go to find the free eBooks for today!
Free eBooks that have something to do with horses... maybe just a character who rides a horse (there is a free book on 'horse colours and markings' but it has so much incorrect and outdated information, I will not put it here - if you have a question about equine colour genetics, just ask me - here in a comment or email me, I'm tired of the old, incorrect information out there):
Free eBooks that have nothing to do with horses but they have great reviews so are well worth downloading for free (many of the free eBooks that I've featured in this section in the past have gone on to be the best sellers in Amazon, selling hundreds of thousands of copies, so it is well worth getting them while they are free).